Below are some details from our very helpful local hosts at George Mason University that will help you get to campus and around Arlington.
Conference Location
The Summer Institute will be held on Mason's Arlington Campus in Founders Hall. GPS/Google Maps address: 3351 North Fairfax Drive, Arlington, VA 22201-4426
Conference Hotel
The conference hotel is the Holiday Inn Arlington at Ballston: 4610 Fairfax Drive, Arlington, VA 22203
Getting to the Conference from the Conference Hotel
Walking from the hotel to Founders Hall
Mason is a 1.1 mile walk (15 – 20 minutes) from the Holiday Inn. Exiting the hotel main entrance, turn right to walk east on Fairfax Drive. At some point cross to the north side of the street, and continue until you reach the plaza in front of Founders Hall (pictured below).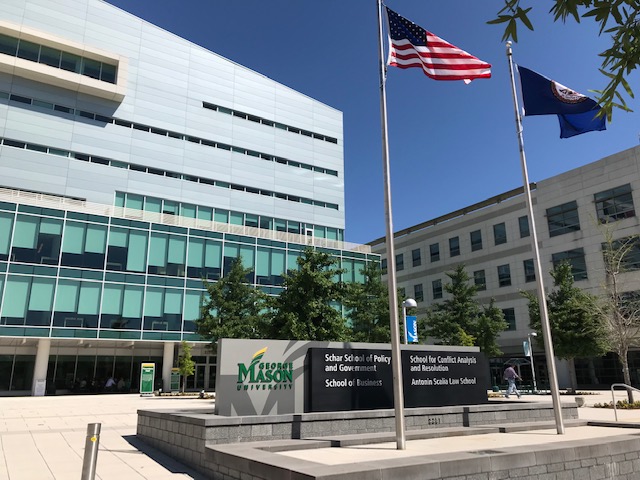 Hotel shuttle from the hotel to Founders Hall
The Holiday Inn operates an 11-person, first-come first-served local shuttle available to all hotel guests. While it cannot accommodate all Summer Institute attendees at peak times, it is an option for those who prefer not to walk. From the hotel, please let the bellman know if you would like to request the shuttle. The hotel can provide a number for the shuttle to be called to Mason's campus.
Uber, Lyft, taxi
Uber, Lyft, and taxi companies are all active in the Ballston neighborhood.
Cycling from the hotel to Founders Hall
Fairfax Drive is busy but provides bike lanes for cyclists between the hotel and Mason. Mason Arlington is a Capital Bikeshare location.
Metro to Mason from around the region – Virginia Square/GMU Metro stop
From the Virginia Square metro stop, walk one and a half blocks east on Fairfax Drive (if you reach St. George's Church, you're going the wrong way). The university is on the north side of Fairfax Drive, well signed. Proceed until you reach the plaza in front of Founders Hall.
Parking at the Arlington campus
Visitor parking is located in the Founders Hall Garage. Monday-Friday rates are $3/hour, up to $15/maximum. Saturday has a flat rate of $8.
The garage entrance is located on Founders Way North, an alley behind Founders Hall off Kirkwood Road. It's easiest to approach the garage by taking Washington Blvd to Kirkwood Drive. The route from Fairfax Drive is less straightforward.
Getting around the Region
Into DC: From the Ballston or Virginia Square stations, take the Silver or Orange line into town
To National Airport: Take the Silver or Orange line to Rosslyn. Change to the Blue line towards National Airport or Springfield/Franconia. (The Blue line terminates at National Airport through the summer.)
Cycling: The Custis Trail into DC runs by the hotel.
Restaurants in the Neighborhood
These restaurants show up on many "best of" lists. Asterisked options have also been recommended by Mason faculty, staff, or students:
Ballston
Grand Cru Wine Bar and Bistro* – Outdoor patio under the trees
Mussel Bar & Grill – Belgian-inspired, "casual yet edgy"
SER* – "authentic comfort foods from Spain in a casual, friendly environment"
Ballston also has ample chain restaurants including Cava, Uncle Julio, Zoe's Kitchen, Nando's Peri Peri, and others.
Clarendon (two Metro stops from Ballston)
Ambar – "Balkan fare in bright festive digs"
Buena Vida* – "Curated traditional dishes from the Vasquez Lugo family"
Don Tito* – 75 varieties of tequila. An Arlington mainstay
Green Pig Bistro* – "Nose to tail cooking in an open kitchen"
Pupatella – Neapolitan pizza, certified authentic
Ray's The Steaks – As billed
Screwtop Wine Bar* – Serious about wine, on a quiet side street
TTT* — "Authentic Mexican with a modern twist"
Downtown
DC abounds in good restaurants. For a start, check out the Washington Post food critic's spring dining guide.